We present to your attention our new slot, available for purchase in our shop. This slot machine, developed by our designers, covers the Circus theme – http://saleslotmachines.com/product/blood-circus/
Here you can see the main interface of the slot machine "Blood Circus". The subject of this slot machine is entirely based on circus shows, the roles in which professional actors perform.
This background image is the main one and reflects the essence of the circus events. Here you can see various tents for presentations and attractions for all comers. In addition, this background image can be used as a pop-up screen and transition between the pop-up window and the main game mode.
Here you can see the game symbols that are included to "low" and "mid"-range categories. Lower-category symbols were drawn without additional effects and bring a small number of winning points to the player, while the "middle" symbols were drawn using an additional glow effect and bring the average number of winning points to the player.
Here is a main screen of the bonus game, where the player has to throw knives into the clown attached to the rotating target.
At this illustration, you can see how the wheel with the target started to rotate, and the throwing knife is already in the player's hands. At the bottom right of the screen you can see the number of knives available for subsequent shots.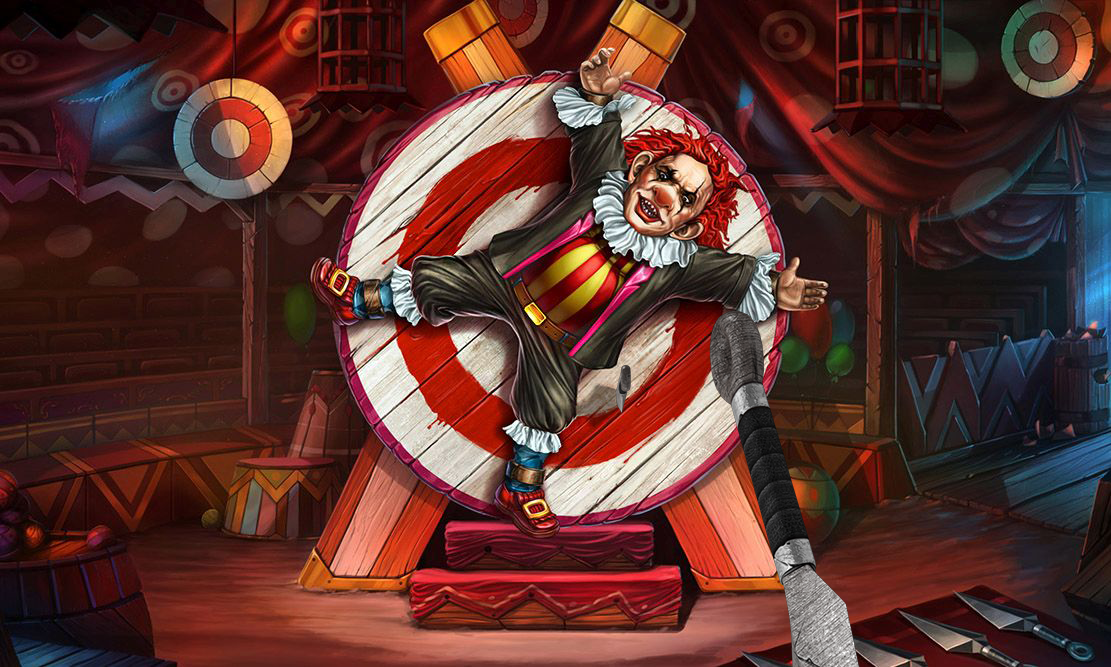 This screen is an auxiliary table of rules and payments, where the player can get acquainted with all the numerical values that are awarded for simultaneous getting of certain symbols.